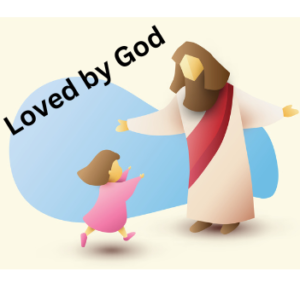 Free one-week  Bible Camp for Children ages 4-11!
July 24-28
 8:50 am – 11:45 am**
We invite your children to join us for this year's summer Vacation Bible School, Loved by God!  We will be looking at encounters that Jesus had with people in the Bible, learning about His love and forgiveness shown to them – and to us.  Children age 4 (by the end of June) through Grade 5 (completed the end of June) are invited to join us in class. 
Each day children will gather to see Jesus meet a different person, and connect how He showed His love to them with how He shows His love to us.   They will learn from the Bible, sing, make crafts, and play games together. Please send a nutritious snack for your child to enjoy at our daily snack times. (NO PEANUTS/NUTS PLEASE!)
Youth grade 6 and up are invited to join us as volunteer games, crafts, or classroom helpers. New youth volunteers will participate in a special training program.  Please mark VIT on the registration form after your child's name for this program.
Click here to register, and please remember that you must download the waiver form, complete it, and send it to us in order for the registration to be complete.  
For information
Contact us by phone – 403.284.1342
Or email miriam@foothillslutheran.com